CoSy/MotorBoarding
Background , Specs | Proposed Regulations , California Go-Peds & other Links , Towards Regulation

Libertarian
scoots
for
Congress

Toward
Rational
Regulation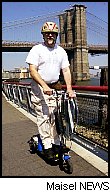 NY Daily New Sunday May 28
Future - Present Individual Urban TranSport
010117| Last fall my Viza MotorBoard was stolen by a gang of kids , caught on video , outside a new gentryfied apartment on 7th east of Tomkins Sq . All I have left is my Kryptonite chain , a nut and a spring . I will flesh out this story as I shop for a replacement .

---
CoSy / MotorBoard : Information and news on a new class of folding scooters providing a new option for individual urban transportation . We believe these vehicles will provide a significant component of personal transport in hi-density urban centers from now on .

Particular Potential Markets are :
Individual - including those for whom walking distances is difficult .
Courier / Messenger - Complementary to bicycles and other modes .
Police Departments - Get around and between and thru traffic jams and crowd control situation . Carry in the trunk of a squad car .
Journalists - to get around the same events .
Campus commuting , Industrial , Academic , Office .
CoSy will provide comparisons between available models and equipment as we learn of them , and will participate in marketing the Best . Please feel welcome to send us news , products , anecdotes , etc , you feel of interest to this market .
I had planned to upload a page comparing the riding of MotorBoards in Manhattan to riding a rental ( Yamaha 50 ) Scooter at APL98 in Rome ( Bottom Line : MotorBoards are not yet up to cobblestone slopes of Rome . Scooters are as tekno as Cars )
However , Friday , September 18 , New York City Police Seized my MotorBoard . So that`s the News I`ve GOT to Link .
9905201335|


I traded in my old Phantom XL to Anthony Pepe for a new MotorBoard , a Viza Venture

First Impressions :
To answer one of Anthony ?s : The smooth cast head set Is nicer when walking with the scooter than his more angular multi part one .
The reduction gear has the obvious advantages described , but I felt it did not coast down the Brooklyn Bridge as freely as the old Phantom .
The Seat , as I have long hypothisized , is superfluous . You have much more control and stability without it .
Over all , the ride and stearing geometry is significantly more stable and forgiving . The wider board , as I have also long advocated , provides a much more stable stance - my feet no longer have to hang half of the sides of the board as they did with Anthony`s sexy but wide in the wrong places fiberglass .
The machine is enough quieter that swarms of (NYC) pigeons no longer take flight when you approach .
The design is soo much more sedate than the Phantom , that when I got to the Red Hook Pier Art Fest Sunday ( See CoSy/Current for SUN.MAY,990516 ) , a woman who`s kid was entranced by the Motorboard explained : ' He has a bad leg ' .
No way she knew . No way anyone jumped to such conclusions on the old machine .
Two downsides , which I commented on to Anthony immediately upon test riding the machine :
The recoil starter housing sticks out annoyingly far . 'Foot scooting' with my right leg , it bumped the casing . Hiking up the Brooklyn Bridge , following my self imposed rule to "walk up , coast down" the bridge during "tourist hours" , I caught the casing on the vertical bridge cables . The same can happen in doorways , etc .
The Folding Steering Column is too short . I virtually have to hunch forward to reach down to it - not a stable position . A couple of inches would make all the difference .
The folddown latch hook is clumsier than Anthony`s design . I will be interested in its durability .
Anthony Pepe`s older Phantoms ( with all but the smallest engine ) are still faster and sexier . Whether their steering is 'sportier' or just less stable would take racing competion to sort out . Apparently U.S.Engines is negotiating to sell its whole Phantom business to a Canadian who will give it more hands on direction , so maybe we will get that competition .
Bob Armstrong . Reply to CoSy/Motorboarding
CoSy
Ultimate Executive NoteComputer