In the Begining
Is the Dictionary
Subscribe to Disqus discussion below to keep updated .
---
Both of these have substantial updates available .
There are , in particular , bugs in the use of IUP which cause the GUI to bomb if an attempt is made to resize the window after anything has been executed .

Lesson_0 :

ctrl_

s |

save everything
---
You should be able to just
download the zip file
unzip the 4th.CoSy directory in it into your c: drive root directory
find and execute the 4thCoSy shortcut inside
and it should start right up .

! >>> !

Unless your anti-virus software , eg Norton , chokes on

Reva.exe

. I've worked thru the problem twice but am far from having it down to an algorithm . If you know how to defeat these things , please post .

( a reason for moving to Reva2011 which has no problem )
| Fri.May,2016052.1451 | 4th.CoSy | Windows Defender decided to quarantine reva.exe Win32/Fethar.B!cl |

Was fairly straight forward to make exception for

reva.exe .

!<<<!



---
As a first example ,
open up some space in the text window ,
Tap F12 to insert a DayLine
Copy or write the line below
save your environment by tapping control_s and execute using shift_F6 . You should see the answer in the res window .
1 _i 2 _i -i |
executed by tapping F6
The big difference is , eg , try
10000 _iota 2 _i -i |
Let me know how it goes .
I use
Slava Pestov
's
Jedit
source code editor . It provides syntax coloring and multiple open buffers allowing multiple windows into any of them . Here's a
screen shot
of my working environment . Click for full size .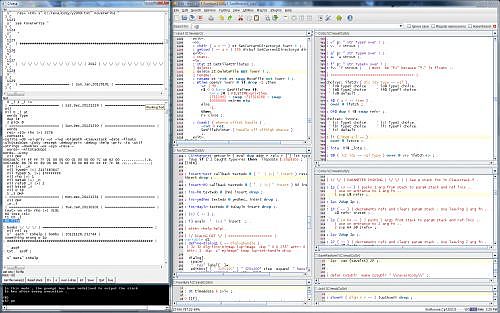 ---
than 10 functions on 10 data structures.
Alan Perlis : Epigrams in Programming #9

The
CoSy
Object Header is 4 cells :
Type


0 means

list




Count


( rho ) number of items
Refs | bits


Meta



data

data
data

data

...

...

...

...

Reva Forth Vocabulary
---
Related NewsLetters , release notes , etc :

If you see my work as being useful to you in the largest sense , your support would be most helpful .
If you have any projects you would care to emphasize , let me know .
If you have any product notions which could use my tek , let's meet .



---
#Disqussion
Please post any questions or comments in the Disqus blog below
Subscribe to this page to get updates
---