Art/KenHowell
 
 ============================: FRI.OCT,971031 :============================
23-4| J.StB&G . 17 JohnSt . Halloween . BigHouseBluesBnd . $20 . 212-349-3278
|4:18| [ )| TS ts |>| 9711031345 |( While I haven`t gotten to as many
 openings this year as in past , The best I`ve seen this year is the Tour de
 Force by 25 yr old \ KenHowell ;718-599-5337 ; WlmsBerg ; in the new room of
 John Street Bar & Grill . |5:15|
| DOWNer : |8:13| Yellow Columbia Shell stolen > 6: . I saw it 2x by itself
 
The range of Ken`s work is not well shown here , in large part because it is all in florescent paints in a totally black lit room . Many of the images taken by the Casio Q10a looked almost totally black before I enhanced them . So , I only even tried to take images of particularly bright portions .


Go to John Street and ask Dave or John to show you the room .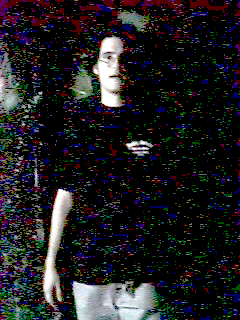 Ken in the dark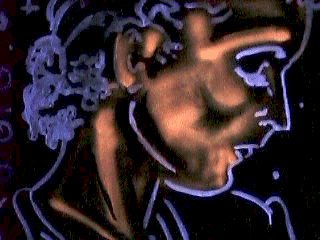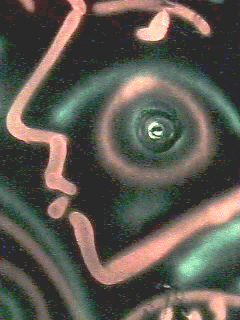 All of these images are details of whole columns or walls . These have strong enough lines to be show even unenhanced .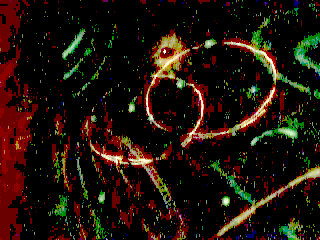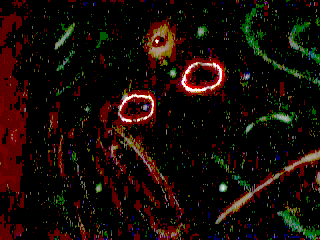 Ken rigged up a couple of pen lasers with a series three spinning )| In APL : | 1 2 circle k x T |( mirrors wobbling around 45 degrees from their incoming beams . Rheostats are mounted on the armrest of a chair so that observers can control the the speed of each mirror . The result is time varying Lissajous patterns . Great Fun ! .
Unfortunately , I took these images of the simplest patterns , circles , because I could see the camera could see them . Once again , you`ve got to go there & sit in the chair & play with the knobs yourself to map out the whole space of patterns .

Missing in this sample are some more stiffly geometric images ( particularly a profile on a column transitioning between a Hercules and a Lion head ) , and his Tribute to JasperJohns .
Among a smattering of symbolic phrases was | E = ' T | where " ' " really should be a Greek delta in APL . I told Ken it should be | T = ' T | which I made a T-shirt of many Halloweens ago .
---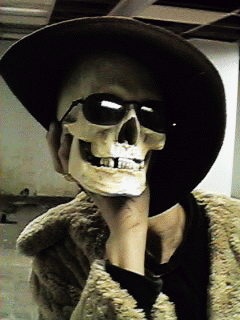 A patron .
---
    | DDT |>| SUN.NOV,971116,14:20-5   
I got back to JStB&G last tuesday for their 2$ drafts ( 17 taps ) and to check if my yellow shell had shown up . I got the pictures below , under normal light , scanning most of Ken`s murals , including the items listed as missing above .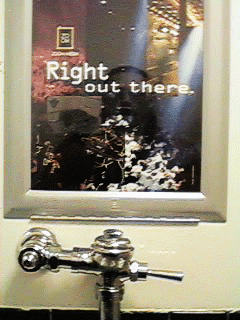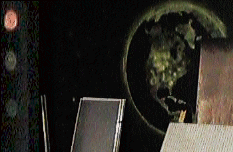 Email : bob@cosy.com
---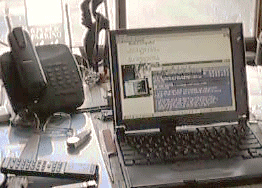 ;
CoSy The
NoteComputer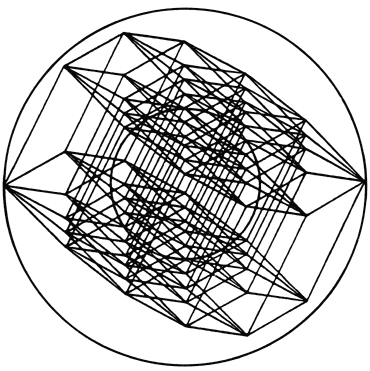 ---