CoSy / Chic NS Home
Chicago NorthShore Home on Market SOLD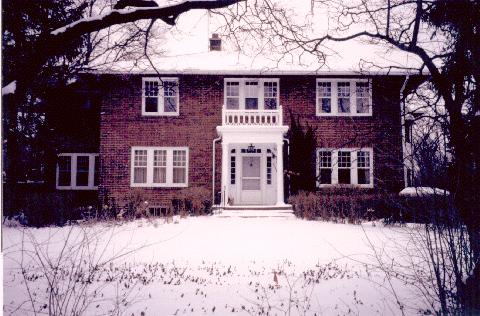 It`s time for the home I grew up in to raise another family .
Two blocks from Lake Michigan . A block from Elm Place Elementry School . A block from Highland Park HighSchool . A short walk to downtown Highland Park , the excellent HP Library , and the Metra Train Station ( an hour ( express 35 minutes ) to Chicago ) .

About 12 rooms , including 4 baths and 3 half baths + 2 sleeping porchs .

Build 1912 , enlarged `38 with Beautiful pine plank paneled studio/den with bay window designed first for Elizabeth Orten Jones , a children`s book author/illustrator of the `40s who used the house in her books Big Susan , Little Red Riding Hood ,and others .

Brick Barbecue and Smoke Oven in spacious kitchen with separate bar sink .

Clearly a million+ $ property when brought up to Millenium standards . One interesting notion is to extend the roof line to enclose the entire flagstone patio area with outside fire place to make a striking interior space . Renovation / enhancement costs in excess of $300,000 will be considered in the price .

Map , Site Plan , Floor Plan , Specifics

Contact Me to arrange to see the house :

\BobArmstrong;212.285.1864 X:-732-0244 ;Coherent Systems, Inc/ 42 Peck Slip 4b/ New York NY 10038.1725 ; bob@cosy.com http://cosy.com ;
---
Antique
Radio
One Item from the house which is of museum quality for those interested in our technological history .