Although you can try guessing a temperature the "right" way, that is, by using trigonometric functions to determine irradiance on every point of a hemisphere,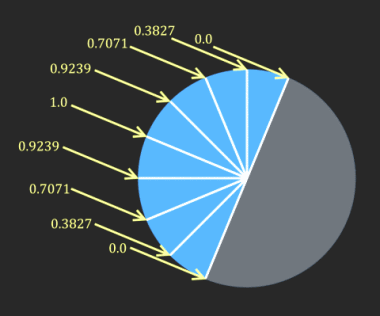 you still end up knowing only the sunlit hemisphere's temperature and not that of the one in shadow.
In short, the problem is at least very difficult, if not unsolvable, as Gerlich and Tscheuschner have pointed out. But I do wish to discuss a detail I uncovered during my own struggles. I mentioned that at solar zenith the temperature would climb as high as 189'° on a model blackbody earth exposed to 956 W/m'². What about the average noon temperature along the entire meridian, then? That is partly solvable, and here'€™s how.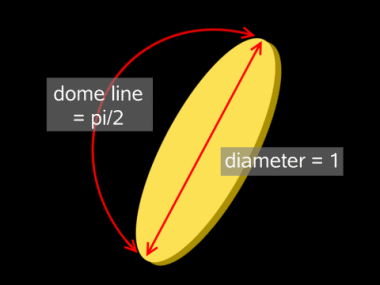 Taking a disc'€™s diameter as 1, its circumference will of course be pi. Mentally slice that circumference in half, "hinge" it upright to a vertical position, and the length of that line is therefore 1.57 compared to the diameter. Now, light that'€™s projected onto this ever-receding line is diminished due to the greater length it has to cover. If light shining directly on a flat disk has a strength of 1, then, the same light on the meridian is 1 divided by 1.57, i.e., the reciprocal of pi/2. This number is 0.6366, so 956 W/m'² falling along a noon meridian therefore has an effective strength of 608.6 watts per square meter, which corresponds to an average temperature of 120'° F! Or should in theory.
I was surprised by such a high temperature myself. And let me add that this 1/(pi/2) rule for a meridian occurred to me only because calculations with very tiny degree increments kept coming closer to a 0.6366 average sine. But one reason for this unexpected value pertains to the 4th root relationship between light and temperature.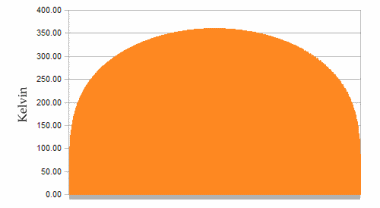 Although the temperature at high latitudes falls off steeply, you'll notice, lower latitudes along a meridian are steadier than one might think: the earth'€™s overall temperature is "flatter" at solar noon than a semi-circle would suggest.
What I'm getting at is that if averaged irradiance is actually a valid method for obtaining a planet'€™s temperature (which I doubt), then dayside peak temperatures are the place to start. Temperature all goes downhill from there, of course, but how MUCH it falls as a physical planet rotates is a very complicated matter. From what I've surmised so far, however, there's no reason to believe that minus 1'° Fahrenheit for the earth has ever been a legitimate estimate.
Alan